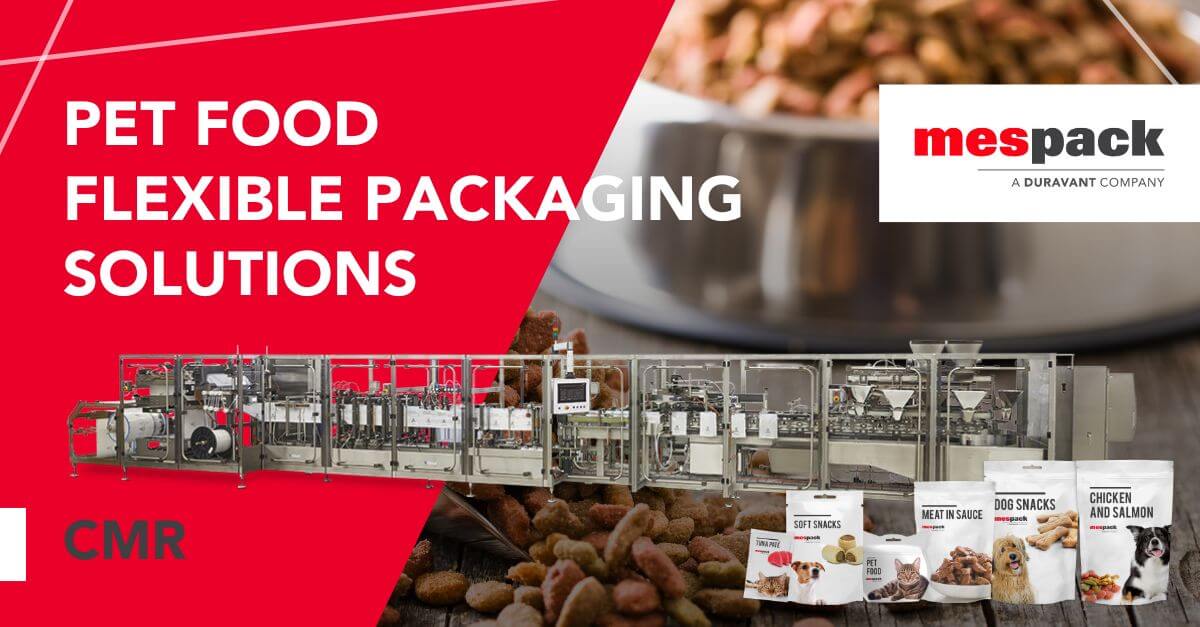 The pet food packaging market has grown due to a rise in demand, and the need for convenient high-quality food products, and the urban population. Hence, there has been a surge to embrace pets and multi-functional pet food packaging. Rising concerns over the nutritional intake of pets have led to a manufacturing growth of various pet foods and demand boost for advanced pet food packaging materials.
Similar to other food products, animal lovers demand attractive, informative, and protective products. Therefore, packaging must offer solutions that are shelf appealing, such as unique shapes, standable features, high-barrier constructions to protect the product, and multiple closure features for package reusability. These packaging features help maintain pet food freshness, longevity, cleanliness, and contaminant free.
Pet food packaging solutions by Mespack respond to the demand increased of these products. Over the past few years, this has grown enormously, thus improving the image of an increasing number of competitors within this sector.
Mespack offers extensive pet food packaging solutions that can fulfill every desired need of pet lovers and producers. With our packaging machines for pet food, we offer flexible and resistant pet food packages, which perfectly provide multiple advantages for both the producer and consumer.
The Mespack CMR is a pre-eminent packaging machine for the pet food industry. The machine has a high large pouch production level of up to 140 pouches/min.
Usage of our CMR machine provides multiple benefits to the producers, which include optimizing the use of raw materials with continuous motion filling technology as well as avoiding headspace, which consequently saves up to 15% of the film.
Regardless of being wet or dry, CMR is the most favorable solution for pet food products to ensure effective packaging with a minimum of 96% efficiency Without a doubt CRM is more agreeable in comparison to traditional rigid packaging. Furthermore, in regard to moving from rigid to flexible packaging, it reduces up to 70% of plastic. Moreover, our precise sealing technology protects the product from factors such as light, humidity, air or temperature changes.
Our laser cutting system offers functional and visually appealing packaging, allowing us to ensure that the package is distinguishable on the shelf, due to its shape and design, thus ensuring a significant reduction of packaging material and saving up to 3% of the material.
To conclude, as a result of the aforementioned benefits, our machines are meeting the high quality and excellence standards that benefit producers and consumers. Due to enormous savings in plastic, it gives minimal impact on the environment.